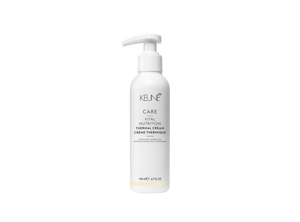 Self-care, bottled
Vital Nutrition
We like to think of our Vital Nutrition lineup as TLC, bottled. Its rich formulas are made with a blend of five essential minerals so your hair is left feeling healthy and soft.
Thanks to Nutri-Injection Technology, active ingredients dive deep beneath the surface to thoroughly moisturise and form a protective barrier around each strand, shielding against harmful UV rays.
Care Vital Nutrition Thermal Cream
Revitalise and style. Haircare product meets styler: Use Vital Nutrition Thermal Cream to nourish as you style. Thermal Cream forms a protective layer around your hair to shield it against the heat of your styling tool. Simply run through damp hair before blow drying, curling or straightening. After styling, your hair is left supple, smooth and easy to comb through thanks to quats. Perfect for dry, damaged or brittle hair, this is a heat styling essential.
Technology
Vital Nutrition
Essential Minerals greatly improve the condition of dry, damaged and brittle hair. The Vital Nutrition products moisturize the inner hair structure, while Nutri-Injection Technology forms a protective shield in and around damaged areas, restoring and revitalizing stressed strands.
Hair is also protected from dehydration and environmental damages. Vital Nutrition leaves hair smooth, soft, shiny, and easy to detangle.
Benefits
Nourishing
Revitalising
Moisturising
The whole range
How to use?
Shampoo: massage a small amount into wet hair. Rinse afterwards.
Conditioner: apply to lengths and ends. Indulge for a few minutes.
Mask: use once a week after shampoo instead of your conditioner. Apply to lengths and ends and indulge for 3 to 5 minutes before rinsing.
Porosity Filler: run a few drops through damp or dry hair. Leave in.
Thermal Cream: work through damp hair before blow-drying.
Protein Spray: mist on damp hair. Rinse, or leave in for extra TLC.