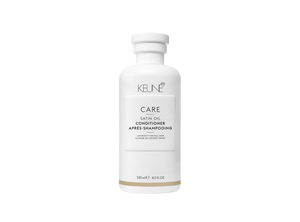 For hair that feels like satin sheets
Care Satin Oil
If you've always dreamed having of shampoo-commercial hair, our Satin Oil range is for you. With Dual Technology, essential minerals are directly delivered to the hair's structure, nourishing and strengthening each strand from the inside out.
Dull, dry hair is transformed into silky-soft strands with an otherworldly sheen. Consisting of a shampoo, conditioner, mask, oil treatment and light oil milk, every Satin Oil product beautifies without adding grease or weight.
A deeply hydrating conditioner for those with lackluster, dry hair. The hair is nourished from the inside out, leaving you with silky, shiny, soft strands.
Technology
Satin Oil is the beauty phenomenon that notably improves the quality of the hair, making it stronger and shinier without adding grease or weight. The unique Dual Technology nourishes each individual strand from the inside out.
Benefits
Moisturizing
Nourishing
Shine-Enhancing
The whole range
How to use?
Shampoo: massage a small amount (you won't need much!) into wet hair. Rinse and follow up with conditioner.
Conditioner: after cleansing, apply to lengths and ends. Indulge for a few minutes before rinsing.
Mask: use once a week after shampoo instead of your conditioner. Apply to lengths and ends and indulge for 3 to 5 minutes.
Treatment: gently run a few drops through damp or dry hair. You can also add a few drops to the Satin Oil Conditioner or Mask to amp up their nourishing properties.
Oil Milk: simply run through damp or dry hair.