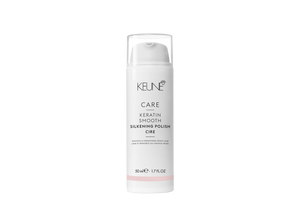 Hair so smooth, it's criminal
Care Keratin Smooth
Frizz. Fluff. Flyaways. Like the name implies, Care Keratin Smooth products smooth and soften hair – for shiny hair that's easier to handle. But there's more! Care Keratin Smooth also deeply nourishes and replenishes keratin, a fibrous protein found in your hair and a key building block. So we highly recommend this range for dry or damaged hair. The range consists of a shampoo, conditioner, mask, silkening polish, serum, and two-phase spray.
Care Keratin Smooth Silkening Polish
Light gel-cream to smoothe frizz. Keratin Smooth Silkening Polish is the last step of your smoothing, softening routine. This lightweight gel-cream smoothes frizz, fluff and flyaways and gives your hair a beautiful sheen.
Technology
Keratin is a fibrous protein and a major component of the hair. It's depleted when hair is damaged, and Keratin loss makes hair extra vulnerable. The Keratin Smooth products restore the hair and replenish Keratin by injecting it into the outside of the strands as well as deep inside.
In addition, Silsoft protects and repairs frizzy and unmanageable flyaways. That's why this treatment is especially suited to those with damaged tresses or normal to dry hair. After diligent use, hair is left silky smooth, stronger, healthier and easier to manage.
Benefits
Smoothing
Softening
Strengthening
The whole range
How to use?
Shampoo: massage a small amount into wet hair. Rinse and follow up with conditioner.
Conditioner: after cleansing, apply to lengths and ends. Indulge for a few minutes before rinsing.
Mask: use once a week after shampoo instead of your conditioner. Apply to lengths and ends and indulge for 3 to 5 minutes.
Silkening Polish: simply run a little through your lengths and ends. Leave-in without rinsing.
Smoothing Serum: simply run a little through your lengths and ends. Leave-in without rinsing.
2-Phase Spray: shake well, then mist on damp or dry hair. Leave-in without rinsing.