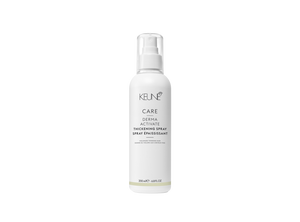 Youth-boosting
Derma Activate
Are you dealing with delicate, fine or dull hair – and temporary hair loss or thinning hair? We've got you covered! In many cases hair loss can be prevented, slowed down or even stopped completely by using products that stimulate the scalp's metabolism. And that's precisely what our Care Derma Activate range does.
The liposomes in the lotion deliver essential minerals, biotin and hair growth stimulants like takanal and caffeine directly to the scalp's skin cells. Derma Activate includes a rejuvenating shampoo, a leave-in thickening spray and a stimulating scalp lotion. Over time, your hair will be thicker, more voluminous and your scalp will function better.
Care Derma Activa Thickening Spray
Get thick. Does exactly what it says on the packaging: thicken. Derma Activate Thickening Spray is a body-building leave-in spray for fine or thinning hair. It's infused with Vitamin H, which improves the quality of the keratin inside your hair — stronger keratin means stronger hair that's less likely to fall out. Provitamin B5 is a powerful moisturizing and thickening agent that'll strengthen the hair structure over time.
Derma Activate
Technology
Derma Activate is a lasting solution for temporary hair loss. In many cases, hair loss can be prevented, slowed down or even stopped by stimulating the scalp's metabolism. Rejuvenator Technology penetrates the scalp cells, ensuring that liposomes gradually transfer Essential Minerals, Biotin and hair growth stimulants like Takanal and Caffeine.
Liposomes distribute the hair growth stimulant gradually to the scalp. As a result, the hair will have more body, volume and shine and the scalp's natural function is restored.
Benefits
Thickening
Volumizing
Rejuvenating
The full range
How to use?
Shampoo: massage a small amount into wet hair. Rinse thoroughly.

Lotion: cleanse with Derma Activate Shampoo, then towel dry. Apply drops directly to the scalp and gently massage in with your fingertips. Leave in.

Thickening spray: mist on freshly shampooed hair. Leave in.