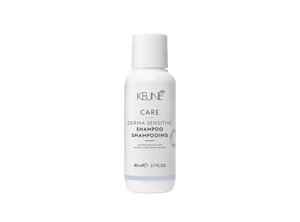 For those with a sensitive scalp
Derma Sensitive range
Intensely softening, immediate relief
We made Care Derma Sensitive by Keune especially for those with sensitive skin. Meticulously formulated to reduce the risk of allergic reaction, Care Derma Sensitive calms dry scalp and alleviates itching. The range consists of a supremely gentle, sulfate-free shampoo and a soothing scalp lotion.
They're both mild, color-safe formulas, blended without sulfates, alcohol and color additives – and with a low-allergen fragrance. With dedicated use, expect a calm, soothed scalp – and soft, healthy hair.
Technology
Derma Sensitive is dermatologically proven to work and offers real results. The products are specifically designed to preserve scalp's natural pH value (pH 5).
The range is developed to reduce the risk of an allergic reaction and features Scalp-Soothing Complex technology. This complex contains SimMollient, Glycerin and Allantoin.
SimMollient is an ingredient that immediately decreases any itchy sensations
and works over time to prevent further itchiness. Glycerin has deeply hydrating properties and Allantoin is an incredibly healing, sooting ingredient.
Benefits
Calming for dry scalps.


Soothing for sensitive scalps.


Alleviating itchiness.
Shampoo + Lotion
How to use
Shampoo: massage a small amount (you won't need much!) into wet hair. Rinse thoroughly.
Lotion: after cleansing with Derma Sensitive shampoo, towel dry and apply drop-by-drop on the scalp, working from front to back. Repeat 5 times until you're sure you've covered enough of your scalp. Then, gently massage in with your fingertips and leave the product. Repeat 2 or 3 times a week, or, in case of acute scalp concerns, daily until they've been alleviated.